42MM WORLD TRAVELLER
Do you travel often? Make calls to other time zones? Our Hybrid GMT World Timer shows all global time zones simultaneously. Our designers and engineers have worked tirelessly to perfect this vintage chronograph watch. Created with premium materials in a symphony of design, a masterpiece was born. At under $200, we beat out all competition while over-delivering on the components offered by anyone else- sapphire crystal, solid 316L steel case, debossed steel bezel, Japanese movement, and more.
Every single minute detail of this timepiece was considered, from the semibold font on the fluted oyster bezel to the brushed/polished dual tone finish. It is truly an expression of purpose and precision.
Our world timer shows the time for the main 24 time zones simultaneously whereas a traditional GMT can only monitor one other selected time zone. True world time watches traditionally cost upwards of $5,000 to $20,000, however we devised a new kind of solution. Using a clever dual-layer rotating disc system, we are able to reverse engineer the first quartz hybrid world timer using a Swiss GMT movement.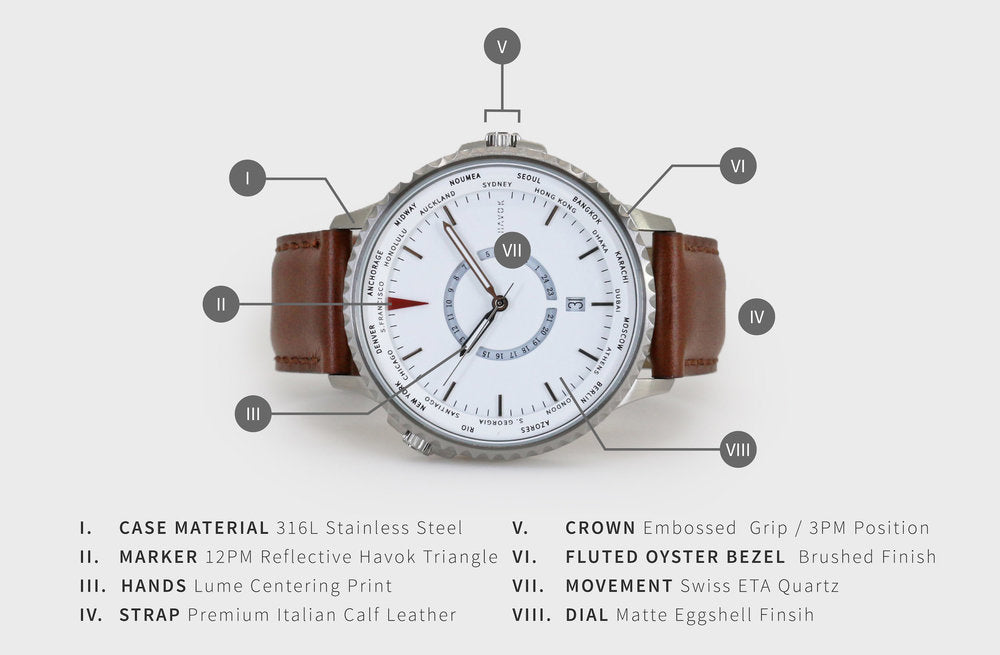 The case is to be sandblasted first, to have all the edges softened, but also brushed on the fluted oyster bezel, to offer a distinct surface. A fluted bezel, such as on a Rolex, practically doubles the available flat surface area on the bezel. Allowing not only a greater surface for light refraction, but also the ability to reflect light from different angles at the same time.